Pin It Now!
But it's not working so well. Man, Christmas and the scale are just not good friends of mine right now! I really should just stop getting on the scale...my lovely hubby was so kind as to move it upstairs so I can now have the daily pleasure of seeing quantitative results of my overindulgence. Yikes.

In light of this new knowledge, I opted for a more healthy dinner attempt tonight - inspired from "Thai it! You'll like it!" from Looneyspoons - a peanutty shrimp pasta dish.

Here is my modified version....
1 pound package of rice noodles (I had medium width, about 5-6mm)
1 cup chicken stock
1 T sesame oil
1/4 c natural peanut butter
3 T low-sodium soy sauce
2 T rice vinegar
1/4 c sweet soy sauce (nam pla)
1 T hot pepper sauce
1/2 t hot pepper flakes
1 T fresh ginger, grated
2-3 garlic cloves, minced/pressed
1/2 t dried basil
1 large zucchini, sliced
1 green pepper, sliced
1 carrot, sliced (was going to use 2, but got tired of chopping veggies, so passed it on to my two fat and happy rabbits)
1/2 c green onion, chopped
1.5 pounds cooked shrimp
fresh coriander

1. Set hot water to boiling while you prep the sauce.
2. Combine the chicken stock, peanut butter, sesame oil, vinegar, soy sauce, sweet soy sauce, hot sauce and pepper flakes in a bowl. Set aside. Chop/prep garlic, ginger and veggies.
3. Cook noodles according to package directions (usually about 4-5 minutes), drain and rinse twice in cold water to keep from sticking, esp. if your dinner guests are late like mine. ;) This comes together quickly so it's best if you have everything ready to go before you start throwing things on the stove!



4. Heat a dash of olive or sesame oil in a large large pan. Add the garlic, ginger and dried basil. Cook until fragrant (about 2-3 minutes). Add carrots and cook for another minute or two. Add the zucchini, green pepper and cook until desired softness.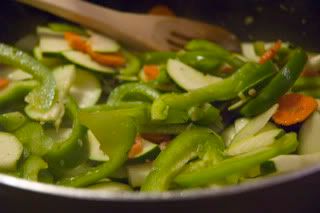 5. Add green onion and shrimp - cook until shrimp are heated through, and then add your sauce. Bring to a boil.




6. Add noodles (I like to use tongs to add them in little piles throughout the pan - it's easier to mix this way than if you dump the whole lot in!)

To serve, garnish with some fresh coriander (or fresh basil). Yumminess. This was a little bit sweet, a little bit spicy and yummy peanutty goodness. Highly recommend.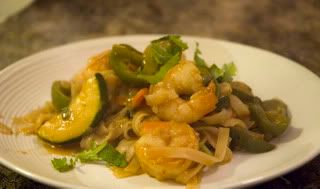 I can only hope the orgy of Christmas consumption will end soon (all self-induced, I can assure you....as I sit here with my glass of 2001 vintage, a bag of skittles and a can of pirouline....)

So much for healthy dins, eh?

Anyway, my little bro is dropping by tomorrow so I'm planning a nice sirloin tip roast (um....yeah....hope it's tender-ish and not shoe leather-ish) and more wasabi mashed potatoes. Will update tomorrow with pics and reviews!

Thanks for reading! :)