Pin It Now!

(above - my fridge full of party food....)

I apologize loyal readers - I've been so busy lately that I haven't had a chance to do many things....cooking, cleaning and updating the blog right among them....

Today has been a REALLY long day, in every sense of the word....it's now nearly two am, and I'm still so wound up that sleep is seeming like a distant and shrinking horizon.

ANYWAY....the lowdown on the last few days....

1) Trip to Montreal. Tres cool. Enjoyed lovely dinners at both La Sauvagine (specializing in wild game - the lovely crispy confit de canard suited me to a tee!) and Vargas, where I enjoyed decent food, but mediocre group service.

2) Christmas extravaganzas and the like. Hubs' party was last night - loads of fun at Absinthe Cafe, where a brief encounter with the lovely green fairy resulted in me being a weeeee bit late stumbling into work this AM.

AND, of course, I am currently just relaxing a bit after finishing preparations for my mom's surprise birthday party tomorrow. Diasporic collaborative party planning is a bit of a new thing for me, but I'm so excited and grateful that there are others who are pitching in and organizing. I volunteered to do the savoury post-dinner munchies, and so that is why I am still awake at this ridiculous hour.....

I started planning my 'menu' long in advance, but apparently lack the foresight and drive to actually DO anything in advance....and of course, I start envisioning all of these crazy ass fancy things....only to realize at 1AM that I've absolutely had it and am on the verge of a second hiatus....(hence why I stopped in my tracks, and decided to relax in writing this entry).

So.....in the interest of keeping things relatively simple for me, I will be serving the following....
1) Cheese plate (with six types of cheese - danish blue, double crème brie, peppercorn chèvre, 2 year aged white cheddar, dill danish cream cheese and chocolate covered mocha cream cheese.....this will be served with kielbasa and calabrese sausage, as well as a selection of crackers and some antipasto.
2) Chips and salsa....MBR style. ;) You didn't think I was capable of just opening a jar and serving it, eh? Nah.....I made two types of fresh salsa - a pico de gallo and a tropical fruit salsa. (For Pico - drop a jalopeno in a running food processor, scrape sides. Add 4 oz of onion, quartered, and pulse a couple of times, to this add 1 pound of fresh tomatoes (cored and quartered), 1 T lime juice, sea salt, fresh pepper, garlic and a small handful of coriander leaveds....pulse 2-3 times to chop tomatoes). For the fruit salsa, similar - 1 cup chopped mango, 1 cup chopped pineapple, 1/4 c minced red pepper, green pepper and red onion, 1T lime juice, 1 t sugar, salt pepper and small handful of coriander. I have regular and blue corn chips for serving.

3) I made a balsamig fig chutney that will be served on baguette slices with goat cheese (another easy recipe - 1 small vidalia onion, 1 T EVOO, 2 cups finely chopped black mission figs, 1 cup balsamic vinegar, 1 cup water, 1/3 cup brown sugar, salt, pepper, 4-6 sprigs thyme. Saute onion in EVOO, add other ingredients. Let bubble for about 20 minutes (add water if it starts getting low during this time period) and then reduce liquid until it is almost gone. Chil)

4) And last, but certainly the most arduous pain in the butt of the bunch, I made phyllo tourtiere rolls, with a recipe that I stole from Chatelaine. Why do I think it's a good or fun idea to work with phyllo pastry? Sometimes, I really do question my logic....

Anyway, I made three dozen of the little suckers, but then was just too worn out to make more. I froze the rest of the filling and re-fridgefied my phyllo pastry. If they are actually tasty and edible (not too sure - hubs came up the stairs and proclaimed that it smelled like nasty spices....!) I will make them up to take to a work party next week. If they are awful, I will toss. :)

Here's a pic of how much fun I was having making up the little suckers....what a pain. "They" will tell you that phyllo is not a pain to work with. Do not believe this heartless propaganda.....working with phyllo will drive you mental. Just don't do it. ;)




Here is a pic of the pseudo-finished product (did I mention the party is 500km away, to be travelled tomorow at dawn? GAH.).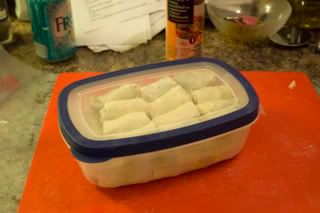 Because that's how much of a geek I am. Oh wait. I'm more of a geek than that. Seeing as it's my mom's party, and I wanted to try to make it a little bit fancier and nicer, I put my arts and craft skills to work (handicapped such as they are) and made these: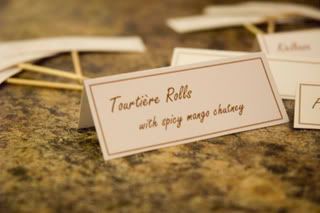 Actually, hubby informs me....HE made these. ;) I put him to work....all I did was cut. And uh, criticize....sometimes perfectionism can get the best of me....and I have to remind myself of the actual relative importance of what I'm doing (usually negligible) and just leave well enough alone. You know...the whole cooks/broth kind of thing....

On that note, I should probably haul my lazy, unmotivated butt off to bed. It's gonna be a looooooooooooooooooong weekend. And not in a good way. ;)