Pin It Now!
I have way too much fun planning these parties. I could seriously have one every second week and be ecstatic about it. It's so much fun to plan and execute the menu, and then see everyone enjoy the food. :)

And I think it was enjoyed! :) I won't lie and say it wasn't a ton of work - I probably spent about 4 hours on Friday night in the kitchen, and then another 4-5 hours on Saturday....but I think it was worth it. It was nice to have everything ready ahead of time so I didn't have last minute fussing - just things like, reheating sauces I had already made, etc. Highly recommend this sort of approach to making food for other people.

I often lament that the formal dinner party seems to have fallen by the wayside...people don't like to plan them, don't like to host them, etc....but I will tell ya, I never have problems getting people to come to them. ;)

I'll go by course and give you a little rundown and analysis. The first little snack I had for folks was the little roasted red pepper bocconcini sticks. This was very easy and quick to put together. I had a *minor* moment earlier on Saturday, because I opened my container of bocconcini and it smelled like feta. Bocconcini should NOT smell like feta. I made the mistake of sampling one of these slightly sticky balls....and then suffered a few moments of angst regarding whether or not I had just inadvertently poisoned myself...but I think I'm okay. Anyway, I chucked that container, and hubs was kind enough to buy me another container. One I had the non-feta-scented bocconcini, I just tossed it in purchased pesto. Then I threaded it on toothpicks with (purchased) roasted red peppers. I arranged it on the platter and then drizzled with balsamic vinaigrette (not purchased). All were eaten, so I think they were enjoyed. Here is a pic!




Tastiness. :)

The next course was the salad. I REALLY loved the salad (see previous post for recipe). I modified the dressing a bit, as per suggestions of reviewers on epicurious - used less oil, added a bit of red wine vinegar, more lemon and a touch of honey. I used mache instead of arugula - mache is very mildly flavoured and textured, and I much prefer it to a more strongly flavoured leaf....for the orange, I discovered that clementines are now in season (YIPPPPEEEEE!), so I cut the peel of several clementines, and then sliced horizontally to make beautifully tasty pieces of orange. The pomegranate was a bit of a pain to seed, but so brilliantly coloured and flavoured that I think it's worth the effort. It has such a beautiful jewel shade that it really just looks gorgeous on the plate. For goat cheese, I was at a bit of a loss, because I really don't eat it....I thought I wanted one coated in cranberry or something else that would complement the salad, but the cheapest cranberry one was like $10.....and the PC brand coated in peppercorns was only $3 (on sale!). So I went cheap....and you know what....I actually really enjoyed it. It was creamy and nice, with a bit of a different flavour, but nothing overly goaty.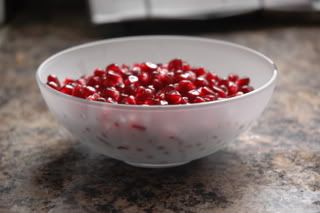 I definitely recommend making this salad for company - it looks very pretty on the plate (I tossed the mache in dressing, plated it, and then topped with the pomegranate/orange and goat cheese). Easy to make too.

The soup was definitely NOT easy to make. Whenever I roast peppers, I always swear up and down afterward that I'll never make roasted peppers again. What a huge pain in the ass. I'm really glad I made these soups on Friday.....it took about four hours, all told. So much roasting, peeling, etc. BUT, they did look lovely. And yellow peppers are so gorgeous...

Both unroasted:



And roasted:



As I said before, I didn't bother straining the soups - the texture was pretty much even, so I just experimented with adding more chicken broth to make sure that the soups would work together.

I was a bit disappointed to find that my tomato soup was not the brilliant red I was hoping for....and must confess to adding several drops of red food colouring to get the nice colour I wanted....heehee. I have to say that it's a trick I've used before (for things like thai red or green curries....we can't stomach enough of the chilis to give it a nice colour so I just bump it up a bit....I'm sure the restaurants do this too because their curries aren't any hotter, but are always much more colourful). So there....that is my soupy confession.

The only disappointment with the soup is that my serrano cream was much more dense than the soup, so it sunk right to the bottom. So sad. :( Next time, I would try thinning out the cream a little bit so it would be less dense. The flavours were quite nice....not spectacular, but the presentation was so cool. My soups were thick enough that the two soups STAYED separate, which was kinda cool. I recommend making this if you have a lot of time on your hands and you want something different and cool.

Main course also turned out beautifully. I bought the fillet mignons from M&M (about 6 ounces each, for $10.99 for two). The size is just right for a nice amount of tasty tasty steak. The only thing I would change is that I also would have bought some bread to have on the table. I think the boys maybe could have eaten more (they had seconds) and bread might have filled them up a little better. The wasabi mashed potatoes were awesome. I think I did about 3-4 pounds of yukon gold potatoes, 3/4 c. homogeneized milk, just under 2 T wasabi powder (you could use more) and some butter and whipping cream to round it out. I made these up ahead of time, whipped them, and then just reheated in the oven when the time came. I had NO luck finding skinny beans, so I frenched the beans I did find.....steamed them in the rice cooker. Yum. And the peppercorn sauce, as always, was a big hit. I love that recipe!!!!!!!!

But the dessert was quite a disappointment to me. :( The flavour of the panna cotta was delicious and the sauce was amazing (I really didn't think that port, balsamic vinegar, sugar and raspberries would be so good!), but the texture of the blasted panna cotta was so tooth-suckingly gelatinous that I was quite disappointed. I made the recipe according to directions, 2T of gelatin powder (I was actually a little bit short) and it was WAY too much gelatin. Yucky. It was easy to make, but I would be tempted to use half the amount of gelatin and see how it went. If you don't already have a copy of the latest Food&Drink, you should find yourself a copy, because there are some great recipes in it!

Anyway, it's now 3:30pm, I'm still in my robe and I have a whole whack of yucky, congealing dishes to get through. Thanks for reading!

I will leave you with a couple of pictures of the room.....

Here is the living room, all done up



Here is the fun centrepiece I made (yay for $10 flowers! I did a couple of other little arrangements through the house, all out of the same bunch!)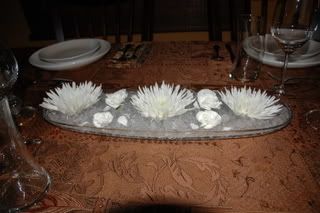 And the table set-up.....




PS - I just tried to use the blogger spellcheck for the first time (figuring I might try to compensate for my atrocious brain-to-fingers reflexes) and it blows goats! It didn't recognize clementine, feta, arugula, bocconcini, or basically ANY food words....not very helpful!