Pin It Now!
It was the best of weekends; it was the worst of weekends.

Have you ever had a weekend go by and just wondered where the heck it went? We had a good weekend - nothing spectacular, but okay. I'm just having a hard time believing that it's already Sunday night and there is little to show for it.

I loafed around for most of the weekend....thankfully, I finally finished my thank you cards. Six weeks....not too bad. :) And they all went out with a picture and all that. :)

Aside from that, I had a good workout (you're ecstatic, I'm sure) and that's pretty much it. Friday night, the kitchen was disastrous, so I started dinner (marinated salmon steaks), but then gave up and ordered greek. Yesterday, we went out for dinner. Hubs was nice and productive yesterday though - pouring cement, caulking cracks, etc. Nice.

Blah. So we got to today....messy house, nothing exciting to do. Hubs went to play hockey (I was tempted to rollerblade but balked at the idea of rollerblading alone - i'm brutal and clumsy and there is no way that anything like that would end well.).

So I decided to tackle the kitchen and the living room. I will give you a before and after so you know what I was working with. ;) Our house is still under renos, so the kitchen is more of a work in progress than a finished product. On the upside, it's proof positive that you don't need a wicked kitchen to successfully make a meal.

Before: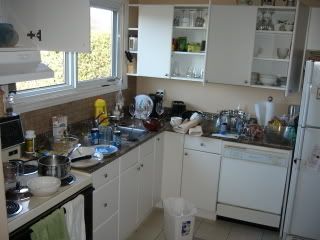 After: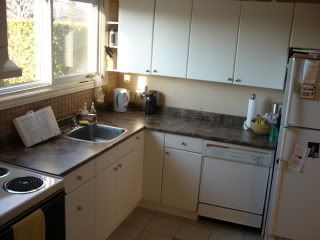 And here's the opposite corner of the kitchen. I have big plans for installing another counter/cupboard unit there, but in the meantime, it's a hand-me-down micro stand, a portable pantry and patio bistro set. Oh...and does anyone else have the problem of empties piling up? The boy SAYS he will take them away, but they seem to sit around the house for quite some time....and then when we do bring them back, we look like the worst sort of lushes...



And the living room transformation. It went from being tax/thank you card central to a nice setting for a romantic meal. :) Also, I hate doing taxes. I'm doing better now than before, but still a ways from gettin' back the moolah. I hate forms. There is nothing I hate more than forms.



And after....set for a feast of fresh baguette (with olive oil and balsamic), spring mix salad, marinated salmon steaks (the ones we were supposed to eat on Friday), steamed asparagus and jasmine rice. Dinner was sooooooo yummy. Except hubs is slowly transforming into a wine snob - he 'rejected' the first bottle we opened, so we had to open a different one. hahahaha. I'm not going to let him live that one down. He's getting as bad as I am with Shiraz....(there is something about that varietal that I just don't like. I can taste it everytime, even if I don't see a label.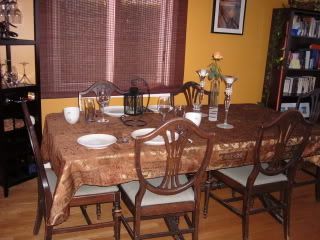 Well, have a great Sunday night. I shall continue sipping my wine, and then contemplate doing the dishes. It just never ends...