Pin It Now!
...and I'm still trying to decide if it's awesome or not.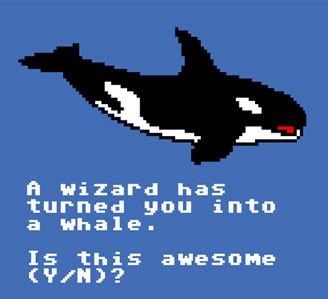 A little explanation is in order first, I think.....

To understand this little saying, you have to first understand a little bit more about hubs...and his penchant for obnoxious t-shirts. While most guys his age are busily straightening ties, and tying up their dress shoes....hubs is scouring the internet for the latest and most original obnoxious t-shirts. It so happens that a guy I went to high school with is also the mastermind behind the HILARIOUS dinosaur comics web page (if you have an offbeat and slightly cerebral sense of humour, totally check it out). Turns out, he's applied his wacky sense of humour to a rather unique brand of merchandise that totally appeals to my geek hubs - obnoxious t-shirts. Last year, hubs ordered a whole bunch of these shirts and they never fail to elicit comment.

But I am totally and completely stealing this one. First, the 80s computer game throwback is fabulously snicker-worthy. And second, I have officially been turned into a whale.

Orcinus orca is my alter ego.

Unequivocably HUGE (oh yeah, I actually had someone call me that).

And apparently I have another three months of growth left. Watch out world, or I will end up beaching myself somewhere...

I think hubs is going to need to order a couples of sizes up for me. You can buy your own wacky t-shirts HERE.

In the meantime, I'm trying to stem the onslaught of poundage by eating more homemade, healthy food. And I have decided that it is time for hubs to start picking up the slack in the kitchen....every night, it is now his job to go down to the freezer, and pick something out of it, and put it in the fridge. The next night, it is MY job, to take whatever it is he defrosted, and cook something out of it (for the record, hubs is AWESOME around the house, and probably does about 90% of everything...this is my facetious little way of giving up on meal planning because I am a lazy preggo).

So, on Sunday, hubs defrosted two things - a massive package of chicken breasts, and a mystery package of what looked like grilled salmon.

It was kinda funny, because I couldn't remember the last time we grilled salmon, and I certainly couldn't remember packaging up the leftovers thusly (the salmon was in a ziploc bag...I tend to put leftovers into containers, packaged up as meals). When the salmon finally defrosted on Monday night, I opened up the bag, and immediately smelled....smoke. Turns out it wasn't grilled salmon at all.....it was hot smoked salmon my mom had brought up from New Brunswick.

A whole different kettle of fish.

I normally purchase cold smoked salmon, simply because I FREAKING LOVE IT, but in trying to be a good preggo, I've been eating less of it (okay, I lie - I'm awful, I had cold cuts and alfalfa sprouts tonight). At any rate, I don't tend to eat a lot of hot smoked salmon, and it's something you have to use judiciously, because it's a very powerful flavour. A wonderful flavour, mind you, but definitely something that can easily overwhelm a delicate dish.

I did some poking around, and came across a great base recipe on epicurious, and modified it a bit to suit my taste and ingredients. I ate mine cold (as pasta salad should be eaten) and hubs heated his up (because he is grossed out by cold pasta). The result? We were both very happy with our respective meals, and it was a great way to enjoy all that lovely smoked salmon!

Lemon Poppyseed Penne with Smoked Salmon



Dressing:
1/3 c. mayonnaise
1 1/2 tablespoons Dijon mustard
1/2 c. sour cream
1 t dried dill
zest of 1/2 lemon
1/2 shallot, minced
2 tablespoons fresh lemon juice
1 tablespoon poppy seeds
pepper

Pasta:
3 cups penne pasta
1 pound asparagus, tough ends trimmed, cut into 1-inch pieces



1 cup frozen peas
4 ounces smoked salmon, cut into 1/2-inch pieces

1. Whisk the dressing ingredients in medium bowl. Season with salt and pepper.



2. Cook pasta in large pot of boiling salted water until almost tender but still firm to bite. Add asparagus and peas and cook until crisp-tender, about 2 minutes longer.

3. Drain, reserving 1/4 cup cooking liquid (I remembered this step just as I poured the last of the cooking liquid through the sieve...d'oh! A little tap water never hurt anyone....)

4. Rinse with cold water until cold. Drain well.

5. Transfer pasta and asparagus to large bowl (or back into the cooking pot if you're not being fancy...why dirty a bowl???).

6. Add smoked salmon. Mix reserved cooking liquid into dressing. Add to salad; toss to blend. Season with salt and pepper. Chill at least 1 hour and up to 6 hours. (I didn't chill it....I am waaaay too pregnant to wait an extra hour for dinner...it tasted the same today, so I conclude that the chilling step is unnecessary).




This is a fabulous pasta salad recipe - I wouldn't hesitate to bring it to a potluck (if I knew people liked smoked salmon - otherwise, shrimp, chicken, or feta would all be good substitutes), or serve it at a brunch. YUM. It's super quick, and doesn't have to be bad for ya if you use lighter dressing ingredients. I also have discovered the BEST high fibre pasta - Catelli Smart. Normally, I hate whole wheat pasta. I know some people swear by it, but it's so chunky and gross. Not at all what pasta is supposed to be....on a whim, I tried the new high fibre white pasta....and it is surprisingly great! Obviously not up to par with homemade, or really good italian imported stuff....but considering what it is, it's a more than acceptable inclusion into the dinner rotation.

Anyway, this whale is about to swim off to bed....thanks for reading! Also, I think mother nature needs a few thumbs up for the insanely awesome weather we've been having the past few days - 25C in April is both unheard of and mind-boggling. I am loving it.